Like many self-built entrepreneurs, Mark Tyrol got his start at an early age, launching his own lawn care business at 14. While working full-time as an engineer years later, he was also working from home, developing his product idea for an insulated attic stair cover. After finding a local manufacturer to create the first product, he started a website.
On the same day the site went live, he sold his first product. Within a year, he had recovered his initial investment and was using the growing profits to market and expand his company. Fourteen years later, he's still working full-time and managing his company in his spare time. He's since added more products, sales channels, and a 7,500 square foot commercial warehouse distribution center.
Battic Door Energy Conservation Products is an e-commerce start-up. They manufacture and sell home energy conservation products that improve the comfort and efficiency of your home by preventing drafts and energy loss. Their attic access solutions help homeowners and contractors comply with strict building codes, offering a low-cost, easy to install solution to a common problem.
What inspired you to create your business?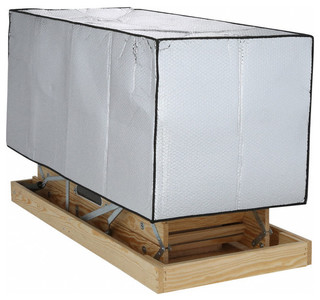 I created Battic Door in 2003 with a product idea to insulate pull-down ladders. There are millions of homes in the U.S. with these ladders that leak air and waste energy. I decided to launch the product online and sell direct. In 2009 insulated covers for ladders became a building code requirement.
Who are your typical customers?
We sell direct to consumers, drop ship for partners, and sell to businesses. Our typical customers are homeowners that are seeking to reduce drafts and improve the comfort and performance of their home. Just about any single or multi-family home, condominium or apartment can benefit from one or more of our energy saving products. We also have a strong contractor customer base that purchases our products in bulk and installs them.
What are the main pain points you see B2B companies have?
Finding the best products for the job was often difficult. You had to buy what the distributor sold, and choice was limited. E-commerce, and digital transformation in general, has completely revolutionized that tired old business model.
Being part-time, how are you managing customer questions and fulfillment?
We have full-time employees that take care of the fulfillment and customer service throughout the day. In fact, most orders are shipped same day. We also have several part-time employees that support shipping, receiving and warehouse operations, etc.
What are your main tactics to draw new customers? Repeat orders? Loyalty?
We reach out to potential customers by publishing press releases and MAT releases. Online searches also create many leads as we have created a content-rich website with numerous videos, articles, how-to advice, etc. Many of our customers are referrals from satisfied customers. Our business customers purchase repeatedly and are quite loyal.
What has been your most profitable marketing solution? How did you develop it, and how has it helped you grow Battic Doors?
My most effective and profitable marketing method is an "Influence the Influencer" marketing program to drive awareness and traction for the business. For several of our products, our customers are home builders, general contractors, and insulation contractors. I targeted building code officials and architects for our influencer marketing program to drive awareness and gain traction for these products.
I understood that an influencer campaign is a long-term investment. I studied the market and determined there are 600k-800k new single-family homes constructed annually. Even capturing a small market share percentage of those projects could grow our business exponentially.
I executed our influencer marketing program by exhibiting at several trade shows and by direct mail. I exhibited at a building code officials trade show and expo, and at an AIA (American Institute of Architects) trade show and expo. I did this for two consecutive years. In addition, I contacted architects by direct mail with product literature and requested them to specify my products.
What are some of the biggest challenges associated with selling to businesses? What are your main takeaways?
Product awareness is a hurdle. We exhibit at-home building-related trade shows for builders and contractors, energy efficiency providers, etc. We also send direct mail pieces to builders and architects, as well as running advertising in industry publications.
What bottlenecks or tasks did you find that took an enormous amount of resources? Have you found ways to streamline/automate this?
Setting up new online sales channels such as HomeDepot.com, Walmart.com, Amazon.com, etc. takes a lot of time. There are providers that enable retailers and manufacturers to integrate, manage, and optimize their merchandise sales across hundreds of online channels. While it does take more set-up time, we prefer to set up our new online sales channels individually and manage them ourselves.
What would be your main advice to other B2B companies just now starting to sell online?
Provide outstanding customer service, reply promptly to emails and phone calls, and ask for the sale. Build product awareness to drive demand. A combination of exhibiting at trade shows, sending direct mail, as well as paid advertising will help grow your business.
Mark Tyrol is proof that launching a successful B2B or B2C company doesn't have to involve quitting your job and committing every second or all of your savings to its growth. Using lean startup techniques like a willingness to develop his own marketing strategies and a commitment to gradually testing and making adjustments to his plans, Tyrol has launched an incredible side business that fills a massive need in the housing market.
Battic Door
---
We strive to help you save money, conserve energy, and improve the comfort and performance of your home by sealing drafts and air leaks from a number of often overlooked and hard to fix sources.
We understand the importance of customer satisfaction, and we strive to meet your expectations.
We manufacture and provide the highest quality products for all of our customers. We believe our customers are our greatest asset, and we are dedicated to serving your needs.
Our products are manufactured in the U.S.A., and we are proud to support several local sheltered workshops that provide dignified and meaningful employment opportunities for people with disabilities.