It isn't easy to stand out in the office supplies industry. Most customers consider the products as "commodities" and aren't particularly loyal to any specific brand or seller. In addition, the margin is often tight so it's hard to compete on price.
Since it's difficult to differentiate your brand from your competitors', you need to attract customers and retain their businesses by going beyond product selection or pricing. In today's B2B marketplace, delivering a seamless sales experience is the key to winning more loyal customers.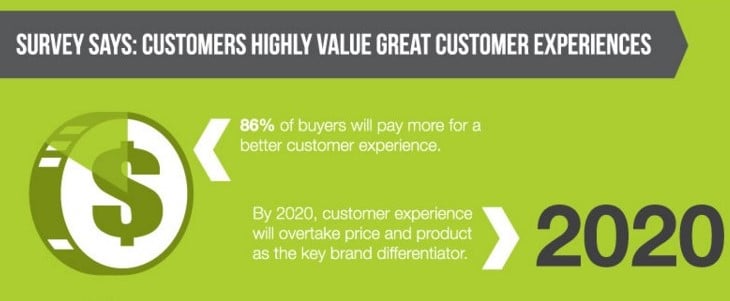 Image source
However, many office suppliers make the mistake of delivering the same customer experience to both B2B and B2C customers. When they focus on B2C messaging (e.g., back to school promotion) and low-value transactions, they're deterring B2B customers from setting up an account and placing an initial order, causing them to miss out on the opportunity to generate more sales.
How can office supplies companies augment their B2B customer experience?
Since more and more B2B buyers prefer to purchase online, you need a robust eCommerce platform that facilitates corporate procurement so you can increase customer acquisition, raise average order value (AOV,) improve loyalty, and boost customer lifetime value (CLV.)
Here's how to set up your eCommerce site and deliver a standout B2B customer experience for your office supplies store:
1. Unlock Your eCommerce Website
Some B2B office supplies merchants lock their eCommerce sites so only registered customers can access product information and volume discount. While doing so allows them to hide wholesale pricing from competitors and the general public, it's also impacting their search engine ranking, preventing them from getting found by new prospects, and increasing sales friction.
By implementing a dynamic eCommerce platform, you can show select content (e.g., custom pricing or proprietary information) only to registered customers without locking your site. This allows search engines to crawl the website so you can take advantage of the marketing and sales benefits of a public eCommerce site and improve your SEO ranking.
2. Advertise B2B Features on Your Website
The majority of office supplies companies don't actively promote the B2B features on their public product pages. This may make sense if the main target audience of the website is consumers, however, you could be missing out on opportunities to attract B2B customers with high spending power.
To capture B2B customers who have different priorities than B2C shoppers, include strong calls-to-action at strategic places on your website to direct B2B buyers to an experience that meets their procurement needs.
For example, send them to a section in your website where they can learn about your B2B pricing, payment options, and other account management features, as well as set up an account or get in touch with your sales team.
3. Offer Volume Pricing and Bulk Ordering
Even though volume pricing is often expected of B2B wholesalers, just 12% of office supplies companies we surveyed offer such discount to their customers. In addition, only 28% of these companies have a bulk ordering feature on their websites.
By offering volume discount and bulk ordering options, you can increase the average order value (AOV) and improve customer retention, which helps boost customer lifetime value (CLV.)
A robust eCommerce platform allows you to display volume discounts or pre-negotiated pricing to users based on their account status. Customers can complete a purchase online whenever and wherever they want without having to pick up the phone or contact a sales rep. This helps reduce sales friction, increase purchase frequency, and improve customer retention.
4. Facilitate Account Management
B2B customers want the ability to manage their accounts 24/7 via a self-service customer portal. Your eCommerce platform should offer robust account management features that reduce the friction of doing business with you:
Since most B2B buyers have to purchase the same office supply items over and over again, a re-order list pre-populated with past purchases can streamline their purchasing experience and increase AOV.
Some companies have multiple buyers with different spending limits. You can set up a pre-approved quota for each user so they don't have to go through an approval process everytime they place an order.
To encourage customers to keep buying from you, offer a subscription service so they can set up recurring shipment for items they purchase frequently.
You can set up email or SMS reminders based on customers' order history and purchase frequency to make it easy for them to keep ordering from you.
Customers should be able to manage their account balance, outstanding invoice, and available credit simply by logging into their accounts.
5. Provide Multiple Payment Options
While most B2C transactions are paid using credit or debit cards, B2B customers have different financing needs and priorities.
Many B2B companies prefer to use a variety of payment methods besides credit cards to reduce financing costs while others want to integrate the supplier's eCommerce platform with their internal systems so they can automate the purchasing process, reduce paperwork, and minimize errors.
These payment methods include eCheck/ACH, purchase order, e-procurement, and extended credit. Some of these options may take a little more time and effort to set up, however, they help reduce sales friction and improve customer retention in the long run.
6. Deliver a Mobile-Friendly Experience
A recent BCG research found that 80% of B2B buyers use their mobile devices for work while more than 60% reported that mobile play a significant role in a recent purchase. A mobile-friendly customer experience also speeds up the time to purchase and increases repurchase rates.
To create a mobile-first website, you should use a mobile-first HTML framework, prioritize user experience base on device usage, optimize page load speed, simplify navigation, and leverage mobile-specific features (e.g., tap-to-call and location service for auto-fill or geofencing.)
Source
In addition, you can offer a mobile app to your customers in which they can easily make purchases, re-order items, manage their accounts, or arrange payments.
7. Integrate with Your Brick-and-Mortar Stores
If your business has physical locations, make sure to integrate your online and offline channels to provide a seamless omnichannel customer experience.
For example, you can use geofencing technologies to help customers locate the nearest stores or offer an in-store pickup option, which is particularly valuable for time-sensitive purchases. You can also allow B2B customers who visit your store to take advantage of the discount pricing and digital invoicing that are available through their accounts on your eCommerce site.
Conclusion
Delivering an outstanding customer experience that makes doing business with you faster and easier is the key to winning more B2B customers for your office supplies business.
Wonder what's trending in the industry and what the industry leaders are doing to succeed? Download the eCommerce Apruval Rating Report for office supply distributors to get the latest intel.